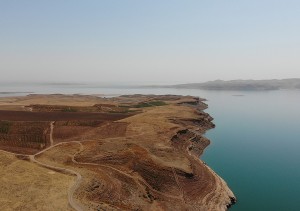 North Mesopotamia during the Roman Period
On the Edge of Empires explores the mixed culture of North Mesopotamia in the Roman period. This volatile region at the eastern edge of the Roman world became the theater of confrontation for multiple political entities: Rome, Parthia, Sasanian Persia. Roman presence is only barely recognizable through military installations – fortified cities, barracks, military camps – and yet these fascinating lands tell a story of frontier people and soldiers, of trade despite war, and daily life between the Empires. This book combines archaeological and historical, literary and environmental evidence in order to explore this important borderland between east and west.
On the Edge of Empires is a valuable addition to researchers engaged in the historical and archaeological reconstruction of the frontier areas of the Roman Empire, and a fascinating study for students and scholars of the Romans and their neighbors, borderlands in antiquity, and the history and archaeology of empires.
On the Edge of Empires: North Mesopotamia During the Roman Period (2nd-4th c. CE) is published with Routledge, February 2019, in the series Studies in the History of the Ancient Near East. 288 pages; ISBN 978-1-138-12013-6.
About the author
Rocco Palermo is a Researcher at the University of Groningen (The Netherlands). He has carried out fieldwork in Italy, Syria, Jordan, and he is currently involved in two different projects in Northern Iraq with the University of Udine (Italy) and Harvard University.
Guest speakers are Dr Lidewijde de Jong, archaeologist of the Near East in the Roman period (University of Groningen); and Dr Lucinda Dirven, lecturer in Ancient History (University of Amsterdam).
Program
15:00 Welcome
15:10 "Past, Present, and Future in the Archeology of North Mesopotamia", Lidewijde de Jong
15:20 Short lecture, Lucinda Dirven
15:30 "Landscape, Cities, and Empires on the Border: Rome in Mesopotamia", Rocco Palermo
16:00 Drinks
Please note: attendance is free of charge, Museum entrance fees apply (please present your Museum card or student card at the entrance desk).