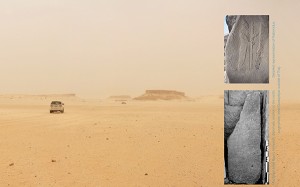 Recent archaeological and epigraphic missions to the Arabian Peninsula have revealed far-reaching cultural interactions between its inhabitants and the great civilizations of the Fertile Crescent. This workshop will gather prominent scholars on the epigraphy and archaeology of Arabia to put into perspective these interactions in an attempt to better integrate Arabia into the history of the Ancient Near East. Talks will focus on South Arabia, the Central Arabia 'Arab tribes', and the great oases of North Arabia, Taymā҆ and Dadān.
Ahmad Al-Jallad will also present the results of the first season of the Leiden-CNRS-SCTH Thaj Archaeological Project, the excavation of the largest pre-Islamic site in eastern Arabia.
Program
9.30-10.00
coffee and tea
10.00-10.15
Opening of the symposium
10:15-11.00

Michael Macdonald (Oxford University)
Leaving one's mark: Writing and drawing around an Arabian oasis from the Babylonians to the present day
View livestream on LeiCenSAA Facebook page

11:00-11.45

Fokelien Kootstra (Leiden University)
The expat community at Tayma? Personal names in Taymanitic
View livestream on LeiCenSAA Facebook page

11:45-13.00
lunch break
13.00-13.30
coffee and tea
13.30-14.15

Caroline Waerzeggers (Leiden University)
Enduring Memories? Nabonidus and Tayma at Qumran (4Q242)
View livestream on LeiCenSAA Facebook page

14.15-15.00

Alessia Prioletta (CNRS)
The kingdom of Ḥimyar at war with Tanūkh and Persia in the 5th century AD: a new historical inscription from the site of Maʾsal (Saudi Arabia)
View livestream on LeiCenSAA Facebook page

15.00-15.45
Ahmad Al-Jallad (Leiden University)
The first season of the Thaj Archaeological Project – preliminary report
Registration and attendance are free.
To register, email Maïta Linzel.
Wednesday 14 December, 9.30-15.45 hrs, Leiden University Library: Heinsius Room
This symposium is organised in cooperation between
The keynote lecture is held on Thursday 15 December by Arnulf Hausleiter: The oasis of Tayma, Northwest Arabia – 6000 years of cultural contacts and exchange.