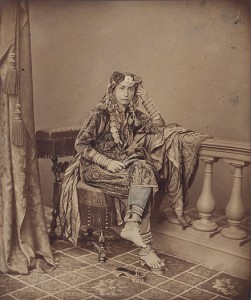 We invite you to join us for a short movie screening and ensuing lunch on Tuesday 28 June. Location: the NINO building, Witte Singel 25/Matthias de Vrieshof 4.
12.00-12.45 hrs, room 008A: documentary screening with comments by Prof. Dr E. van Donzel
12.45-14.00 hrs, NINO library: walking lunch offered by NINO
Seyyidah Salme, daughter of Sultan Said, grew up in Zanzibar. At age 22 she met the German businessman Heinrich Ruete. They married and she went with her new husband, through Aden, to Hamburg (Germany). Her son Rudolph Said Ruete bequeathed his library to The Oosters Institute in Leiden in 1937. This collection comprises ca. 800 books curated by the Netherlands Institute of the Near East, as well as photos, diaries, letters, etc.
Prof. Dr E. van Donzel, former Director of NINO, dedicated part of his life to study these materials and is the leading specialist on this subject.
If you plan to join us, please send an email to nino@hum.leidenuniv.nl.