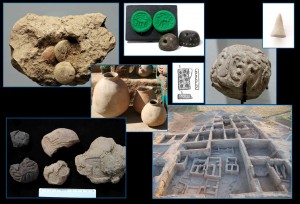 Lucy Bennison-Chapman studied Near Eastern Archaeology at the University of Liverpool. She received her PhD in July 2015. She is the first NINO Postdoctoral Research fellow, based at Leiden University with a project investigating the use and function of non-literate administration systems and recording devices in the Near East from the late Neolithic into the 1st millennium BC.
The Origins and Development of Non-Written Administrative Technologies in the late Neolithic to Early Historic Near East – Project Summary
During the Neolithic, small geometric-shaped clay objects or "tokens" appear. It is commonly assumed that from their inception, geometric clay objects acted as mnemonic accounting tokens, invented specifically for this purpose, with the meaning held in their shape remaining constant throughout millennia. Recent research demonstrates that although many commonly held pre-conceptions regarding the invention and use of clay objects in the Neolithic are unsubstantiated, several late Neolithic sites in Mesopotamia demonstrate evidence for the beginnings of the use of clay objects as basic accounting tools c. 6,000 BC.
The current research project investigates how clay objects might have been used as tokens alongside seals, sealings and other administrative tools at two discrete villages at Tell Sabi Abyad (north Syria) c. 6,000 BC. It traces the continued use of tokens as administrative tools into the Early Historic period up until the 1st millennium BC, where despite the invention of writing to facilitate account, tokens continue to be recovered in administrative contexts, alongside related technologies such as cylinder seals, bullae and writing.
Lecture organised to introduce our first Postdoctoral Research Fellow and her research. All who are interested in the Ancient Near East are invited to join us! After Lucy's lecture we will proceed to grand café Pakhuis (Doelensteeg 8) for drinks.