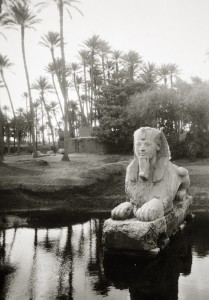 John Alfred Spranger (1889-1968) was born in Florence, and a leading figure in the Florentine cultural milieu at the beginning of the twentieth century: an engineer, topographer, mountain climber, archaeologist, art collector and photographer. He traveled extensively – in Egypt, Abyssinia, Canada, Central Asia, and Etruria – and left several photo albums detailing archaeological explorations as well as travel memories, daily family life and friendships. His friendship with Harry Burton, Howard Carter's photographer at the tomb of Tutankhamun, is only one example of Spranger's interest in archaeology and its photographic documentation.
Dr. S. Anastasio is appointed at MiBACT - Superintendency of Florence, Pistoia, Prato (Italy).
The lecture is part of NINO's lecture cycle 2016-2017 with the theme "The ancient Near East and Egypt through the lens".
Spranger's photographs of the Valley of the Kings and Deir el Bahari (West Bank of Luxor, Egypt), form a modest link to the exhibition "Queens of the Nile" at the National Museum of Antiquities, Leiden (opens 18 November 2016).
Veenhof-lezing
De Veenhof-lezing werd in mei 2002 in het leven geroepen, naar aanleiding van het afscheid van professor Klaas Veenhof als hoogleraar talen en geschiedenis van Babylonië en Assyrië aan de Universiteit Leiden. De lezing wordt jaarlijks georganiseerd door het NINO en het RMO.
locatie: Rijksmuseum van Oudheden, Taffeh-zaal
datum: vrijdag 25 november 2016
tijd: 20.00-21.00 uur (zaal open: 19.30 uur)
borrel: na afloop van de lezing, tot 22.00 uur
entree gratis, s.v.p. aanmelden via de website van het RMO
voertaal: Engels