31 Oct 2017
General
In Memoriam Dr E.J. van Donzel
We commemorate Dr Emeri van Donzel, former Director of NINO (1974-1990), who passed away on 29 October 2017.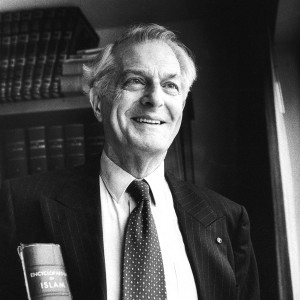 Dr Emericus Joannes van Donzel
~ Emeri ~
Nieuwstadt, 5 July 1925 - Wassenaar, 29 October 2017
We remember him as both an accomplished scholar and an adept manager who steered NINO through a crucial phase in its existence.
Emeri van Donzel was Editor-in-Chief of the Encyclopaedia of Islam (second edition), received the Akademiepenning of the Royal Netherlands Academy of Arts and Sciences (KNAW) as well as an honorary doctorate from Hamburg University, and was Officer in the Order of Oranje-Nassau.
He studied Semitics, Sanskrit, and Indonesian culture before being sent to Addis Abeba as a Lazarist missionary. This sparked a life-long dedication to Ethiopic studies, resulting in the publication of important studies and text editions. He also pursued other lines of research, such as the life and writings of Sayyida Salme/Emily Ruete, and the history of Islam and Arabic speakers in Africa and Central Asia. The leading elements in his research were mutual knowledge and understanding between the cultures of Islam and Christianity, and an interdisciplinary approach. His work as author and editor of the Encyclopaedia of Islam has greatly contributed to the modern study of Islam.
More information on Van Donzel's life and work, including a select bibliography of his publications, is found in Volume 33 of the De Goeje Foundation series: E. van Donzel – Ethiopia, Arabia, and Islam, A Selection of his Writings, 2017; ISBN 978-90-6258-973-9.
An In Memoriam with references to other obituaries was published in our journal Bibliotheca Orientalis vol. 74 (2017), 5/6.
In 2016 Anita Keizers and Deborah Gianessi interviewed Van Donzel on his research into Sayyida Salme. A short video (ca. 10 mins.) is now available on YouTube.