22 Nov 2018
Symposium
The 'Holy Land' and Modernity: the Frank Scholten Collection in Context
Organised by the Nederlands Fotogenootschap in cooperation with Leiden University Libraries, the NWO-UL CrossRoads Project, and NINO: a symposium on the Frank Scholten Collection, with viewing of photographs and albums from the collection, on Monday 10 December.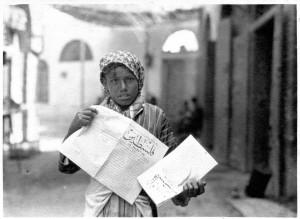 would like to invite you for this symposium on Monday 10 December, from 13.30-17.00. The symposium will be held in the Vossius room and the Heinsius room of the UBL at Witte Singel 27.
Read more about this event on the UBL website.
Programme

13.30
doors open and coffee
14.00
Dr. Maartje van Heuvel (UBL): Introduction
14.10
Drs. Carolien van Zoest (NINO): NINO and the Frank Scholten Legacy
14.30
break and possibility to view photographs
15.00
Dr. Karène Sanchez (CrossRoads, LU): Photography, Modernity and the CrossRoads Project
15.30
Dr. Sary Zananiri (CrossRoads, LU): Frank Scholten: An Invaluable Dutch Vision of the 'Holy Land'?
16.00
possibility to view and discuss photographs, questions
16.30
drinks
17.00
end of program
Registration
Please register via aanmelding@library.leidenuniv.nl (subject "Frank Scholten") or by telephone: 071-527 28 32.
Frank Scholten Collection
Read more on the Frank Scholten legacy, held by NINO, on our website.