De Buck archive
NINO holds the research materials collected by Prof. Dr Adriaan de Buck, pertaining to his publication of The Egyptian Coffin Texts.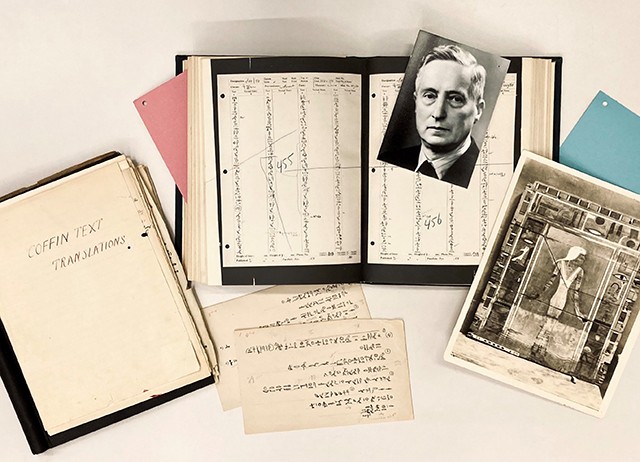 Adriaan de Buck was Professor of Egyptology at Leiden University 1939-1959 and Director of NINO (together with Franz de Liagre Böhl) 1939-1955. His monumental edition of the Coffin Texts (7 volumes, 1935-1961) was a project of the Oriental Institute, Chicago. De Buck travelled to collections of Egyptian antiquities in different countries to transcribe texts and compare variants.
Our collection mainly consists of some 1800 black and white photographs, printed on 20 x 25 cm, of texts on Middle Kingdom coffins in various museums. They were left to NINO, where De Buck held office, upon his death in 1959. This source of information to Egyptologists specializing in Coffin Texts and Pyramid Texts may be consulted by appointment. Contact Carolien van Zoest (NINO) and Prof. Dr Olaf Kaper (Dept. of Egyptology, Leiden University).
A modest amount of additional archive materials are present, but these are as yet uncatalogued.
Index

A detailed index of coffin photographs in the NINO-De Buck Archive was created in 2021 by Dr Jorke Grotenhuis. It is an aid to finding photographs of specific coffins or spells, for use on our premises.
This index is licensed under an Attribution-NonCommercial-NoDerivatives 4.0 International license, which means a.o. that the pdf file may be downloaded and shared on the condition that The Netherlands Institute for the Near East, Leiden, is credited, but it may not be changed in any way or used commercially.