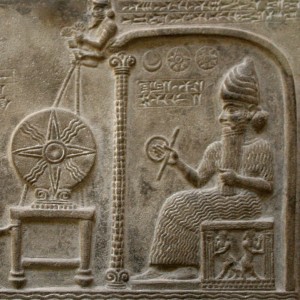 Guardians of the written word: the dawn of philology in the Ancient Near East
Material practices of writing have become routine for us over thousands of years. The digital transformation, however, calls many of these routines into question and contours the specifics of writing with particular clarity. Authorship, reliability, correctness of texts, even the question of textual transmission must be rethought. And yet this is not the first time: the history of cuneiform writing shows how societies in the ancient Near East dealt with these challenges. The lecture looks at the practices and methods developed by scribes and scholars, the guardians of the written word in ancient Mesopotamia.
Eva Cancik-Kirschbaum is Professor of Assyriology at Freie Universität Berlin.
Practical information
Due to stricter corona measures the Veenhof Lecture 2021 will be held as an online-only event. Admission is free; please join us!
Registration
The lecture will be livestreamed through Zoom. Register here to receive the Zoom link (no Zoom account needed).
---
Annual Veenhof Lecture
The Veenhof Lecture is organized every November by the Netherlands Institute for the Near East in cooperation with the National Museum of Antiquities. Named after Prof. K.R. Veenhof and honouring his contributions to Assyriology, the annual lecture is aimed at colleagues and students, as well as a broader public. The speaker is an internationally renowned scholar. All are welcome to attend the lecture.
Please note: this year we are forced to stray from our usual format: the lecture is held in December, online, and at the very start of the evening.
date: Friday 10 December 2021
venue: online (via Zoom)
time: 17.30-18.30 hrs
admission: free – registration required
main language: English
---
Jaarlijkse Veenhof-lezing
De Veenhof-lezing werd in mei 2002 in het leven geroepen, naar aanleiding van het afscheid van professor Klaas Veenhof als hoogleraar talen en geschiedenis van Babylonië en Assyrië aan de Universiteit Leiden. De lezing wordt jaarlijks georganiseerd door het NINO i.s.m. het Rijksmuseum van Oudheden. Alle geïnteresseerden zijn van harte uitgenodigd.
Veenhof-lezing 2021
Spreker: Eva Cancik-Kirschbaum, hoogleraar Assyriologie aan de Freie Universität Berlin.
Dit jaar wijken we noodgedwongen af van ons vaste stramien: de lezing wordt gehouden in december, online, en aan het begin van de avond.
datum: vrijdag 10 december 2021
locatie: online (via Zoom)
tijd: 17.30-18.30 uur
entree: gratis – aanmelding verplicht
voertaal: Engels